Joni Lappalainen, CEO
The game industry as a whole has been largely unscathed by the global COVID-19 crisis. The lockdown — and quarantine — situations in different countries are even working to our benefit, as people are staying home, playing video games, and streaming or watching streams. (More on that in my last blog post about Twitch's triumphant beginning of 2020.)

The part of the lockdown situation that concerns game developers professionally are the many conferences that have been cancelled or postponed. The organizers of the industry's national and international events are facing their own crisis as mass events have been banned in many countries and the travel bans, border closures, and general threatening atmosphere prevent major parts of their audience and speakers from participating. This makes it harder for people in the industry to make connections, find talent, or secure partnerships or funding.

Major events worldwide are currently being cancelled. For example, Electronic Entertainment Expo (better known as E3) which would have taken place in June in Los Angeles is not happening. In the USA, there are different restrictions in different states and California has taken the virus situation very seriously. Game Developers Conference (GDC) has been postponed from March to August.

But some event organisers have taken a different approach and are making an effort to provide online programs, or even organize an entirely virtual event.

For instance, gamescom in Germany announced in a March press release that "gamescom will definitely take place, at least in a digital format, from 25 to 29 August". Germany has banned all major events until the end of August and the early announcement has given gamescom plenty of time to make new arrangements. For now the only concrete plan gamescom has published is that their opening show, gamescom: Opening Night Live, will take place as an online event.

The first entirely virtual implementation happened last week, on 13th to 14th of May. The event was the European Games BizDev Gathering, EGBG for short, a non-profit pitching and networking event with a goal on supporting European game developers in the midst of COVID crisis. EGBG was put together by EGDF, Remote Control Productions, and Reboot in cooperation with MeetToMach, to fill the gap left by the cancellation of the industry's biggest events like E3 and GDC. EGBG aimed to create an easy to use online venue for pitching and matchmaking for publisher and investors and I think they pulled it off amazingly. With over 400 attendees the event was a success and will definitely lead the way for the coming events organised online or in a hybrid form combining virtual and physical elements.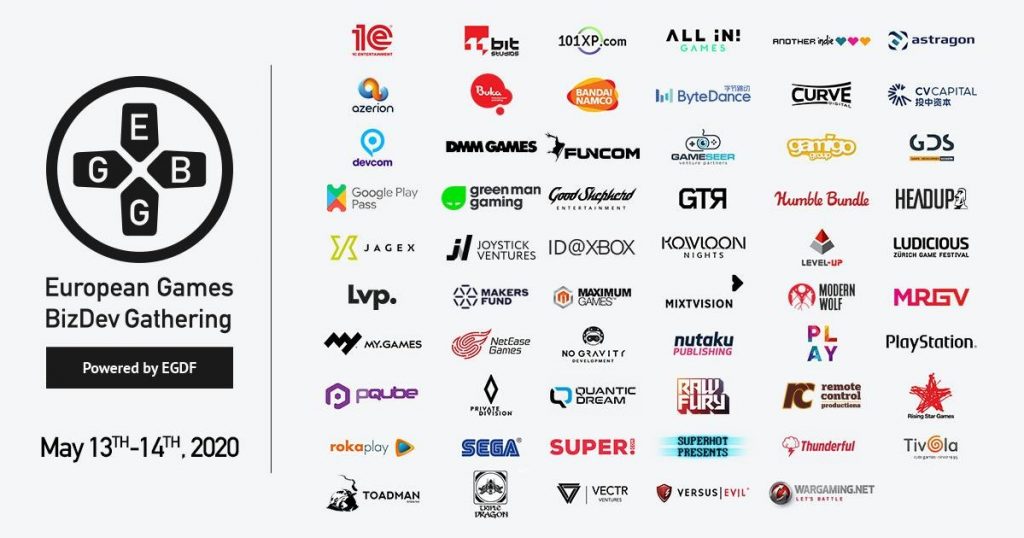 The next upcoming example of an event that has put a lot of thought into adapting their operations is Nordic Game. This conference takes place annually in late May, in Malmö Sweden and this year they have decided to organise an online event, NG20 Online. NG will also use MeetToMach as did EGBG and also broadcast some of their award shows and organise evening program in Discord. The rest of the year most likely brings even more online-only events to the gaming field.

Hendrik Lesser, who is the mastermind behind EGBG, has impressed his confidence that the game industry events will never go back to the old normal. The lessons from EGBG and the Corona spring will permanently affect the way we think about our business and events. Events have played a major role for years for game studios as a networking and deal making arena and a shift to online environment is not a small change but it might be an inevitable one.

Having participated in EGBG I observed some big pros in a digital conference as opposed to a physical one. Firstly, digital events are more time-efficient. No time spent lining up at airport security checks, no hours wasted sitting on a plane, and no jetlag, either. Secondly, they are a lot more convenient: people participate in the events from their own couch or office and get to go home at the end of the day. This is especially great for people with families. Finally, enabling digital participation lowers the costs of participation so drastically that it makes it possible for even the smallest of studios, and brand new firms, to participate. They don't need to worry about the dent that travel and accommodation will make in their budgets, and can focus those euros where they matter most, instead.

Digital events in the gaming industry as well as in other fields of business will most likely become a part of the new normal. With creative and efficient digital solutions for different functions in conferences, such as MeetToMatch for meetings, and Discord for social gathering and after-parties, the online dimension of events could become a permanent part of our industry. In gaming we are already operating a lot of the time in the virtual world, so it is a natural next step to organise partly or entirely virtual conferences, networking events and maybe even fan conventions. Enabling digital participation will help broaden the visitor base and diversity in events, and might even bring new perspectives and ideas to the field.